VeGrenan Kennels
CKC German Shepherds and Bullmastiffs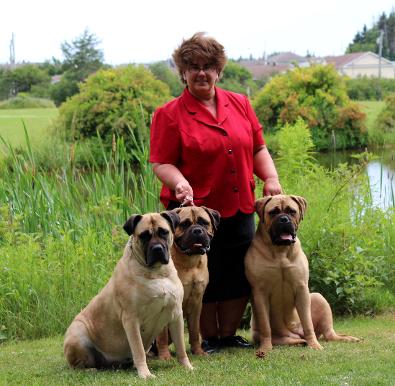 I have lived with, shown, trained and handled German Shepherds and Rottweilers since 1985. Both breeds are incredible animals to live with and each bring me great joy in their own ways. I became very interested in Bullmastiffs several years later and after much thought and research, I acquired my first one in 1992.
I have built my kennel from solid foundation stock, but all the dogs are my pets and are treated as such. I do have very high expectations from my dogs, however, if I start working them in a sport that they just do not like, I will stop and find one that they do enjoy and can excel at.
I welcome all inquiries and truly enjoy talking about my dogs. All of my dogs are loved for their own special reasons and spend their time not only competing in conformation rings, canine sports and Schutzhund, but are also allowed to just be dogs. They can often be seen playing in a mud puddle, wrestling with each other or just lounging in the sun. I am very proud to say that my dogs are able to successfully earn titles at both ends of their names thus proving they not only possess beauty but brains as well. Whether you are looking for a hard working dog and or a family pet and protector, you will find it in a VeGrenan dog. The kennel motto has always been "Security You Can Hug".
Nanette Pearl
I am a member in good standing of the Moncton Kennel Club (lifetime member), The Canadian Kennel Club and the German Shepherd Dog Club of Canada. I am also a CKC evaluator for the Canine Good Neighbour Test.